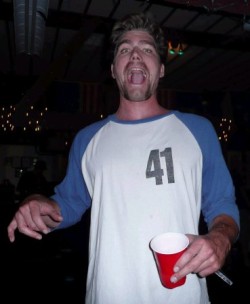 Matt LeFevre
Position: ?
Bats: R
Ht.: 6'6"
Wt.: 220lbs.
Born: 10/07/1975
Eyes: Green
Hair: Brown
Tattoos: Cock (Left Foot), Meat Tag (Right Rib Cage), E.G.A. (Left Shoulder)
Scars: Chicken pox (forehead), Small Line (forehead), Line (left ring finger palm Side), U shape (right middle finger back side), Several small marks (left and right knuckles)

Born in the softball hotbed of Rochester Michigan, his father tied his right hand behind his back for the first 7 years of his life, to no effect Matt was clearly right handed and this only served to delay his athletic development. Perhaps in response he turned to contact sports that would involve little more skill than running into people (football and rugby). While serving in the Marine Corps he played one softball season as a left fielder with The Prospects...which were winless. He began feeling the pull of the large white balls (softball) again in the early part of the century and put together a mens team at the now defunct Suburban Softball. That first team went winless (Pos. - left center). Subsequently he put together a co-ed team...which was also winless (Pos. - Pitcher). Playing for the first time with Corey in Southfiled (Pos. - 3rd Base)that team also did not win. While subbing for mens E league Tommy Mac at Liberty he participated in his first sanctioned softball win (Pos. - Right field)...a year ago. This spring season with the co-ed team Lefevre he had a streak of wins (3) but finished tied for 9th (Pos. - Pitcher). Also with the co-ed team The T-Ball Rejects currently playing Friday nights at Liberty the team is undefeated (2 - 0) (Pos. - Left Field). Amoung the highlights of his career are hitting for the cycle last spring while subbing for a mens E league team. He is available for autographs every first game of the month, tutorials by appointment, and has never been known to turn down a beer.